Our History
You will be delighted with home baked scones and other delicious food
The view will impress you and lighten your mood
The warm hospitality of your hosts and new local friends
Will make sure your stay is memorable until your time here ends
There is lots of local talent and places to explore
Dinner Theatres, Museums, local sights and so much more
Twillingate is a place that is rich with people who live by the sea
And much like our tea, its steeped in History.
Captain's Legacy is not an exception to this rule, for this home has a story worthy of mention
So it's now to this, that I draw your attention: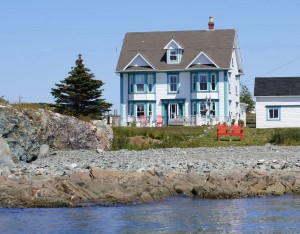 Ephraim Jacobs built this magnificent home by the sea in 1881
Beautiful Italian ceilings made of Zinc are painted shiny white
And imported light fixtures brighten the home at night.
The house changed hands several times until 1952
When Captain Peter Troake became its new owner
Captain Troake commanded the Christmas seal, a floating Medical Vessel which served
all of the people along the coast of Newfoundland.
They provided x-ray services and tested for TB
And for services rendered, Captain Troake became an
Order of Canada honoree.
Shortly before his death, another Honour was owed
The Lung Association's Lifetime Achievement Award was bestowed.
The people ever present at Twillingate's heart,
Are people you will be happy to know right from the very start.
A vacation spot at the water's edge is waiting here for you
With incredible service, incredible people and fantastic ocean views.
Written by: C. Beitinger